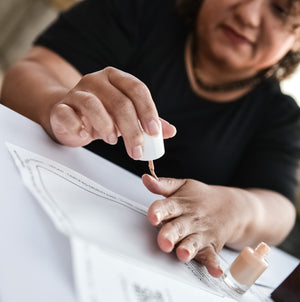 TAYLOR MADE Nail School is your go-to resource for everything Nail Care!!
We're covering ALL your questions, routines and best nail care tips so you can achieve your best healthy, natural nails!
I'm Vanessa, the creator of TAYLOR MADE . I've aptly named this page "Nail School" because its what I wished were taught when studying for my nail tech license in the early years of TAYLOR MADE. Sadly, education for the nail industry is filled with products and techniques that harm nails, are unsafe and drive a dependency on their products by slowing destroying your natural nails. I knew this had to change. That's why I developed healthy methods, along with the products, that provide REAL results WITHOUT toxic and harsh ingredients.
I've obsessed over perfecting the techniques and products to provide a safe and simple system so that EVERYONE can have beautiful nails without sacrificing their health. We've created this page to help you break free from toxic nailcare and achieve the gorgeous nails you deserve!