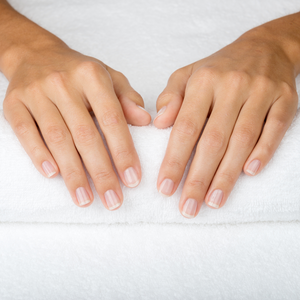 Healthy cuticles set the stage for gorgeous natural nails. Follow our best tips and techniques for your healthiest cuticles!
cuticle care
Radiant Nails start here
what are cuticles?
Thin layers of skin that form a protective barrier between your nails and skin. Their primary purpose is to shield nails from infections and bacteria while promoting healthy nail growth.
4 Keys to Cuticle Success
Knowing how to care for cuticles isn't hard. We've narrowed down the easy essentials!
No. 1
hydration
Just as your skin needs hydration, so do your cuticles. Keeping cuticles well-moisturized prevents them from becoming dry, cracked, and prone to tearing.
pro Tip
Consistency is key. Weekly or bi-weekly maintenance ensures your cuticles never get so overgrown that they're difficult to maintain.
No. 2
say no to cutting
Cutting cuticles with clippers can lead to infections, pain, and even misshapen nails.
Instead, push your cuticles back gently after softening them with cuticle oil.
bonus tip
If you have a TAYLOR MADE glass nail file, the rounded handle end makes a convenient and gentle push back tool!
NO. 3
gentle removal
If you find yourself dealing with stubborn, excess cuticle buildup, a gentle cuticle remover is a safer alternative to nipping or cutting.
pro tip
After using a cuticle remover (TAYLOR MADE has a great one), we recommend using the our organic hand scrub to exfoliate and slough off the dead cuticle skin for extra smooth and nourished cuticles.
no. 4
regular Moisturizing
Apply cuticle oil at least once a day. Consistency is key to maintaining healthy cuticles and preventing them from becoming dry and cracked.
pro tip
We also recommend "oiling" treatments. These are intense moisturizing sessions for your nails and cuticles, where gloves are worn after applying a heavy application of oil. Wearing the gloves helps lock in the oil! Read more about it here.
have cuticle questions?
Reach out anytime! We're happy to help you on your nail care journey.